Hello from Humber's Panopto Support Team! We'd like to highlight some new features, tools, and resources which may help you in your remote delivery:
Panopto Capture

We have activated a new pre-release tool for faculty. Panopto Capture (BETA) is a browser-based alternative to Panopto's desktop app, and can be used to record your video and computer screen, and is compatible with even more devices. For more information, check out the Panopto Blog.
Improved Auto-Captioning (ASR)

Apply accurate Closed Captioning to your videos even more quickly! Panopto has partnered with Speechmatics, a global leader in ASR, to dramatically improve the quality of machine generated captions and search results within Panopto.
New Panopto Mobile Apps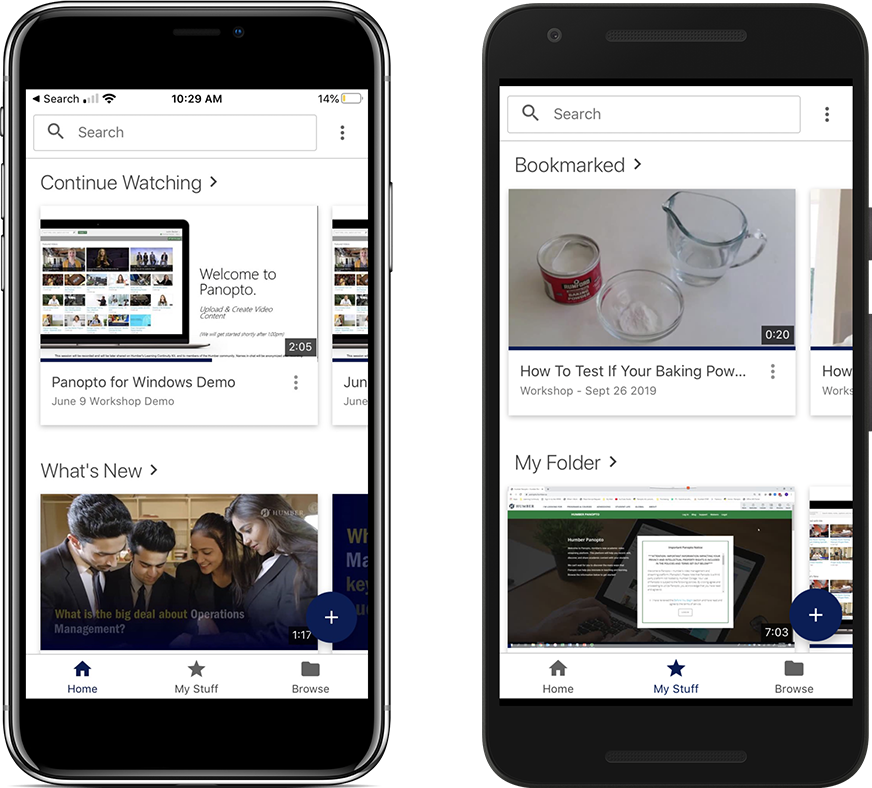 Panopto's mobile apps have been redesigned from the ground up! Faculty & Students can resume their previously-watched videos, easily find bookmarked videos, and much more. Download the new versions from the App Store or Google Play Store today!
How-to Videos
Check out the Learning Continuity Support folder in Panopto for a number of videos that have been built to help you use tools such as Panopto, Blackboard Collaborate Ultra, and more!
 To access how-to videos, navigate to:

Browse > Institutional Resources > Academic > Learning Continuity Support
Should I use Panopto or Blackboard Collaborate Ultra to engage my students with video?

Panopto is your quickest go-to for when you would like to create or upload asynchronous video (i.e. a short 2-3 minute video, targeted towards a particular topic).

Blackboard Collaborate Ultra is your quickest go-to for when you are looking to create a live, synchronous experience. Collaborate Ultra supports features interactivity tools such as live polling, whiteboards, and breakout rooms.
Panopto Resources
As always, the Panopto portal is the best source for up-to-date Panopto resources. Check out the Panopto Features section for information on how to embed videos within Blackboard, activate the Assignment Folder for student assignments, and more. Can't find what you're looking for? E-mail Humber's Panopto Support Team for quick support!
Get even more support on remote-based delivery
Check out the Learning Continuity Kit (built by Humber's Teaching & Learning team) for up-to-date tips & tricks to support you with delivering in a remote-based environment. Check out great resources on Final Assessments, participate in a Live Webinar, or view a collection of educational videos that have been curated for you to embed in your curriculum!
Attributions: Mobile device images were generated using MockUPhone